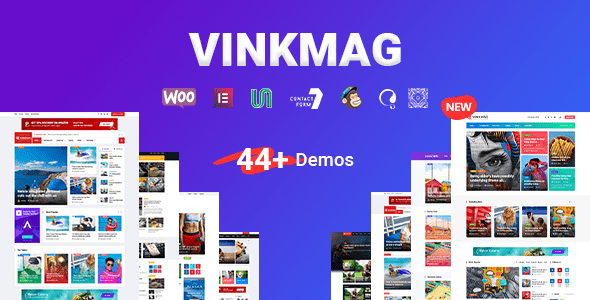 Noticias, tema de la revista WordPress
Vinkmag es un tema de WordPress Multi-Concept, Unique, News, Magazine & Blog creado para agencias de noticias, sitios web de Tour-Travel, Business Magazine, Food Recipes, Crypto News, Health Magazine, Technology Sites y todo tipo de sitio de publicación o revisión. Vinkmag ahora admite RTL, eso significa que ahora puede usar nuestro tema para RTL árabe, hebreo, kurdo, urdu, persa y siríaco.
También viene con twitter bootstrap 4, SASS, Slick Slide, Owl Carousel, Video Popup, Beautiful Tab, Gallery y más. Vinkmag es un sólido tema de WordPress todo en uno para una mejor experiencia.
Vinkmag viene con una potente opción de tema de Unyson. También viene con el generador de páginas visual de arrastrar y soltar Elementor más poderoso. Es súper flexible con toneladas de excelentes funciones, como la sección de imagen, sección de video, sección de color, fuente de Google ilimitada, carrusel, ventana emergente de video, pestaña hermosa, galería y más …
El tema Vinkmag tiene un diseño totalmente receptivo. Se adapta perfectamente a cualquier pantalla y resolución, como pantallas de escritorio a tabletas, iPads, iPhones y pequeños dispositivos móviles. Al ser realmente amigable con el SEO, Upturn le proporciona una creación de diseños sin código y le permite editar su sitio web en modo visual. Vinkmag es un sólido tema de WordPress todo en uno para una mejor experiencia.
Características de la plantilla
Diseño de página de inicio predeterminado completamente único
16+ variaciones caseras
Más de 10 diseños de encabezado diferentes
5+ Diseño de nicho diferente: viajes, deportes, negocios, tecnología, comida, criptografía, salud
Diseño multipágina
Construido con elementor page builder
Kirki Customizer
Marco de Unyson
Tema de soporte RTL
Fácil de personalizar
Diseño limpio y simple
Diseño totalmente receptivo
Compatible con navegador cruzado con Edge, IE11 +, Firefox, Safari, Opera, Chrome
Basado en Twitter Bootstrap 4
Plantilla receptiva
FontAwesome, iconos Icofont
Fuentes web de Google
Página de noticias de estilista
Documentación
Fácil de personalizar y fácil de usar.
Registro de cambios

v2.8
Breadcrumb issue fixed 
Megamenu plugin update
Post view count issue fixed
Read Time translate issue fixed.
Taglist widget added.
v2.7
Added text type logo feature
Fixed woocommerce gallery slider issue
Update admin.js
Fixed google ads in elementor's editor
Updated progressbar css

v2.6
Added Progress bar on top of the single post 
Added Custom container width option 
Added single post Ads option 
Updated Single Post Title Tag to H1 From H2

v2.5
Added Post offset in addons 
Fixed css issue

v1.7
Fixed post layout for video 
Added Dailymotion support added
Added Title limit option on post grid style and post list widget.

V1.5.2
Improved Gutenberg CSS
Fixed Topbar localize the issue
Fixed Mobile scroll issue

V1.4
Fixed mega menu issue

V1.3
Mega menu updated 
Added 2 new demos
V1.2
Added two new demo
Added Social share
Added Read time count
Added Gutenberg Compatibility 
Fixed known bug
Improved Documentation

v1.1.1
Fixed mega menu issue

v1.1
Added RTL support
Fixed mega menu issue
Woocommerce Support
Update header layout 

V1.0.3
Added Travel blog
Added three more default home style
Fixed css issue

V1.0.2
Added Child theme.

V1.0.1
Image picker isse fixed.